Product Size: 500ml
Ecobud Alkalise Glass Bottle Pete Evans - Little Penguin - turns everyday tap water into fresh, filtered and alkaline water minus chlorine, fluoride (removes up to 98% of fluoride), contaminants and bacteria. No need to worry about boiling your water or investing in expensive filtration systems. Glass bottle is naturally free of harmful chemicals and does not hold any plastic odours. The ergonomic shape allows for easy portability and one-handed operation, and the non-slip, protective sleeve guards against shocks. The Little Penguin Glass allows you to be healthy everyday by simply refilling your bottle wherever you go. The resilient and safe glass material is infinitely reusable, offering an endless supply of alkaline water which is rich in essential minerals.
Good clean water is essential for good health and survival. Water makes up approximately 60% of our body, 90% of our brains and 80% of our cells. We are highly dependent on good clean water for our bodies to function correctly. For example if our brains don't receive enough water this will result in headaches, migraines, etc. We should consume at least 1 litre of water per 25 kilograms of body weight and more if you drink caffeine or alcohol. Now you can enjoy fresh, clean, healthy water without the additives and the way it was meant to be with this easy and cost effective filtration system everywhere you go.
The Little Penguin Alkaline Water Filter Bottle has replaceable filter using energised ceramic, activated carbon and calcium ionised clay to remove all the nasty extras from your water. All you need to do is fill up the bottle with water and the purifying technology will do the rest to ensure you enjoy the hydrating and nutritional effects of pure water without the nasty chemicals or contaminants.
About Little Penguin Alkaline Water Filter
The filtration process uses only natural elements to create odourless, smooth, and light water. It's a safe and sustainable solution to filter out harmful pollutants, so you can enjoy water containing only the essential minerals to hydrate and nourish your body. The Little Penguin Glass filters use an advanced 4 stage process to remove impurities in tap water: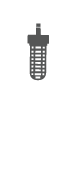 The first layer of the filter is a PPF membrane – which is responsible for filtering out small particles like sand, rust, and oil.
The second stage of filtration involves a Silver Activated Carbon media– which captures and holds onto contaminants in the water as they come into contact with the filter. This carbon media removes unpleasant tastes and odour- producing chemicals such as chlorine.
The third stage involves the water passing through a Calcium Ionised Clay media - which releases activated calcium ions in the water and increases the alkalinity to a pH of 8.0 – 8.5.
The fourth and final stage of filtration involves water passing through another PPF filter membrane, to ensure that any residual particles are effectively removed.
Water is vital to:
Transports nutrients and oxygen into cells

Moisturizes the air in lungs

Help metabolism

Protect vital organ

Help organs to absorb nutrients better

Regulate body temperature

Detoxify the body

Protect and moisturize joints
In the Box: 1. Little Penguin Glass Water Filter Bottle. 2. Little Penguin Filtration Cartridge - recommended to change every 2 months for maximum alkalisation and filteration. Replacement filters also sold separately - more information below. 3. Instructions.